By Julia Werth, Student Participant
The lightly-colored shell tumbled around in the water, tossed this way and that by the waves, occasionally catching the sunlight on its shiny face, other times rubbing across the muddy bottom a few meters below the surface. In one particularly violent wave the shell got caught. Its shovel-like edge dug into the muddy earth and there it stayed.
As the years went by more mud, sand and shells piled up around and above our little shell. The ocean above our shell swelled with water from the melting ice caps as the Earth around her slowly lifted upwards.
"Keep walking down the beach, just around that bend, up the slope a little, do you see anything?"
We peered over the edge of the mudstone bedrock searching for something unusual. There was an odd pattern of holes and a few white specs…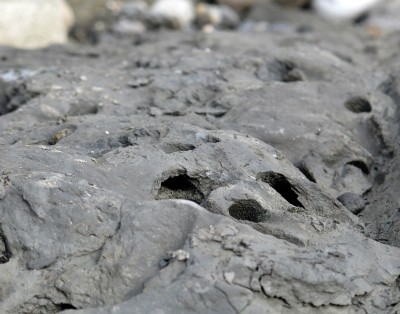 "A shell," someone called pulling the lightly-colored fragment from the crumbling mudstone.
And it wasn't any old shell. It was a very, very old shell – a shell dating to around 16,000 years ago – according to one of the leading Taiwanese geomorphologists who joined us for a hike along the rocky eastern shoreline near Taitung this afternoon.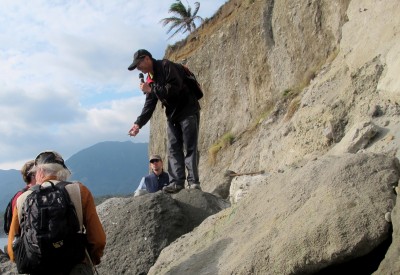 Since we left the Central Mountain Range and gorges – and crossed over from the Eurasion plate to the Philippine Sea plate – our class has been investigating the coastal mountain range, and the coast itself.
The eastern shore of Taiwan is certainly not the relaxing, gentle beaches of the eastern shore at home. Instead, it is covered with volcanic ash, volcanic bombs, broken bits of coral and rapidly eroding mud and clay stones, leaving us with a dramatically beautiful vista, but one that won't be here for long. Certainly not as long as our little shell stayed put.
---