By Julia Werth, Student Participant
After a long day of travel and the anticipation for warmth and beaches running high no one was too excited to unload at the Chuhuo National Scenic Area. But with a little encouragement from Will (who promised a treat) and our field notebooks and cameras in hand we unloaded from our bus (fondly known as grasshopper) and headed for the trail.
Chuhuo is famous for its cracked mudstone bedrock through which natural gas leaks out due to the high pressure caused by rapid uplift of the rocks.
Often a description exaggerate and makes a natural phenomenon sound way more intense than it actually appears in person. But Chuhuo's natural gas fields were the complete opposite. I had no idea what to picture, but it wasn't blazing fire covering the ground like wild flowers.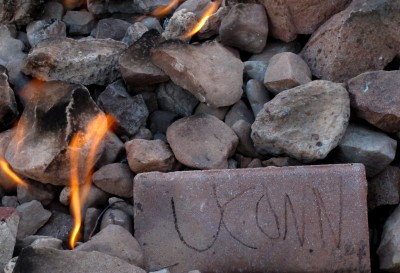 At this point we didn't need a treat, the fire was entertaining enough, but our professors delivered, with roasting sticks and dozens of marshmallows to go around.
It was certainly the first time any of us had roasted marshmallows upon the open ground, but for the Chinese tourists and our Taiwanese friends, it was the first time they had ever seen such a bizarre ritual. As I brought my perfectly toasted and slightly burned marshmallow towards my mouth I started hearing fearful shouts and the woman next to me was wildly gesturing.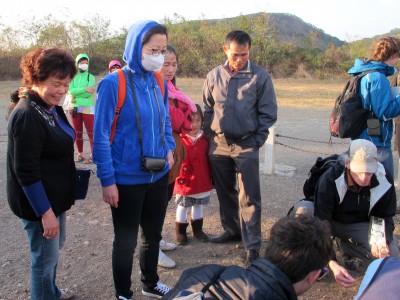 "It's perfect!" I said. Somehow, she didn't seem reassured. "See," I said as I stuck the entire marshmallow in my mouth, "yum." As horror spread across her face, I sensed more than a language barrier.
"She was saying don't eat the black parts," Alice told me. "Roasting marshmallows is not a thing in Taiwan."
Boy are they missing out, but despite my kind-hearted offers to teach the Chinese children how it's done, they didn't go for it.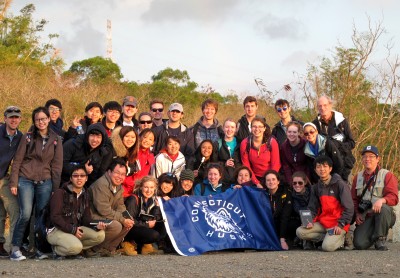 As we headed back to the grasshopper – now on a sugar rush – the beautiful sunset reminded us, we were heading for vacation land. And Ken Ting did not disappoint.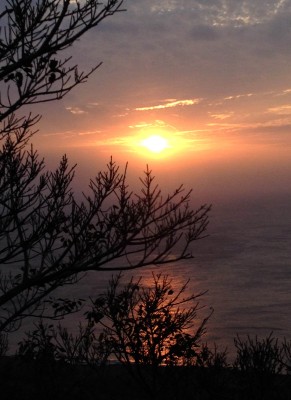 After a night out on the small beach town – the Taiwanese version of Mexican food and a few sparklers may have been involved – we spent today doing what we do best, playing with rocks, dirt, mud and this time fossils.
Shells upon shells, upon shells, upon shells (and one prized shark tooth)
But we weren't on the beach picking up snail shells that washed up yesterday. We weren't on the marine terrace finding shells of animals that lived 20,000 years ago. Instead, we were deep in the woods, behind a junkyard-goat farm combo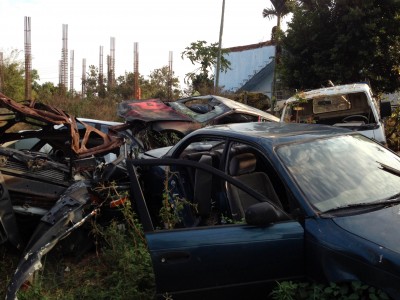 (don't ask, we can't explain) sitting on surprisingly sandy and muddy soil picking up hundreds of fossils from one million years ago.
Although I feared my subpar geology skills might prevent me locating even one fossil, I shouldn't have worried. We all went home with bags filled while thousands more treasures lay strewn on the ground waiting for someone else to pick up…
---